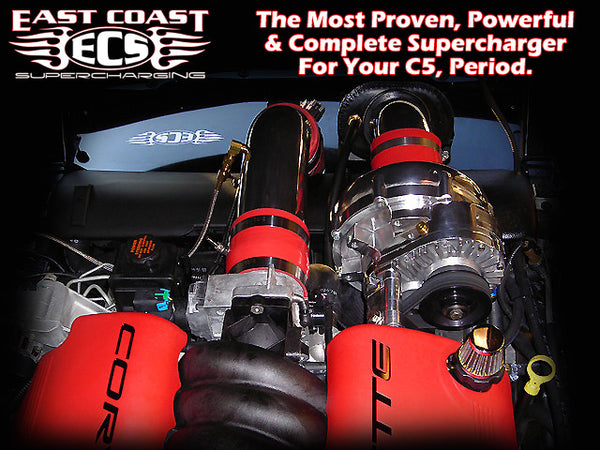 East Coast Supercharging 1997-2004 Chevrolet C5 Corvette Supercharger Systems
The products depicted on this page are for informational purposes only, and are not for sale directly through Vortech or Paxton Superchargers. This page is dedicated to the 1997-2004 C5 Corvette Supercharger Systems manufactured by our 3rd Party Manufacturer - East Coast Supercharging. To purchase the products depicted on this page, please contact our 3rd Party Manufacturer - East Coast Supercharging.
This is the system that started the revolution. The kit holds every supercharged record for 97-04 Corvettes. The Fastest Stock bottom end LS1 & LS6; The Fastest Stock Cube C5; The Fastest Supercharged Late Model Corvette; All run the ECS Paxton Supercharging System.
It™s not the cheapest system for the C5, but it is the most complete. ECS have built in a large number of features that you won™t find in other systems " or will have to pay upgrade fees for. ECS believes in providing the most reliable, powerful and complete system, rather than piecing together a complete supercharging system.
A Superior Belt System
When you install a Supercharger System on your C5, you dramatically increase the load on the vehicles belt system. That™s why ECS start their C5 system by addressing one of the most critical aspects of a centrifugal supercharging system " by including a super strong, custom belt tensioner that is designed specifically to handle the increased belt load, along with zinc coated steel, double walled ball bearing idlers to replace the factory plastic idlers. In addition, East Coast Supercharging are the only manufacturer to provide a fixed idler kit that replaces the weakest idler on the C5, between the power steering and balancer, which has proven time and time again fail under the stress of a supercharger system.
Strong and Functional Brackets
ECS uses a proprietary bracket system that provides the most belt wrap possible, while still being user friendly enough to enable easy and fast belt changes (without removal of the Head Unit) when necessary. The ECS brackets are made from ¾" billet aluminum and include steel idlers and a stout slide tensioner, allowing maximum belt wrap and traction.
System Contents & Features:
System adds approximately 200hp to otherwise stock vehicles, and the capability to deliver far more on modified Corvettes.
Belt driven Paxton NOVI 1500 centrifugal supercharger provides unmatched reliability
Fuel management upgrade includes an ECS œBoost A Pump and 60# injectors for safe, reliable operation
Complete system fits under stock hood
Crank pin kit and new GM Crank bolt included
PCV oil separator/catch can to eliminate oil vapor from intake
ECS Valve Cover Breather
Billet aluminum supercharger mounting bracket assembly includes idler, drive belt and all necessary hardware
Kit includes new radiator / intercooler support which tilts radiator back to allow clearance of all ducting
High-flow, reusable air filter
Air inlet restrictor plate integrated into system provides greater low RPM hp & torque while maintaining safe peak RPM boost levels
Inlet and discharge duct connections utilize heat-resistant silicon sleeves and premium quality stainless steel clamps
Tial 50mm Blow Off Valve
Compatible with factory OBD II engine management systems
Heavy duty belt tensioners and fixed idlers with double ball bearing idlers to ensure proper belt tracking and traction
Replacement NGK TR-6 spark plugs included
New 160 degree thermostat to ensure adequate cooling
6061 aluminum ducting
Standard kits come with black finish head unit and black brackets with polished being an option
Please note: These systems will require ECM programming.
For more information on this system, and others from this Third Party Manufacturer, click the following link:

East Coast Supercharging

.
Loading...